Here are the 2007 New Items from Marklin

Authorized Marklin Digital Dealer .

If you see something you like, email me: RJFtrains@aol.com
If you have an interest in any of the items listed below, let me know ASAP, even if they are scheduled for 3rd or 4th quarter delivery, and especially if the items are MHI, Limited, Export, or even car sets. These almost always sell out in the US and ordering early is your best assurance of getting these items!
Note: Prices indicated as "Pre-order Price" are valid only for orders placed before
February 28, 2007. For orders after that date, the higher price (if shown) will prevail.
.
(E)
Export
Items generally only available for one year -- limited availability
(EX)
Exclusive
Available only by subscription -- very limited availability
(L)
Limited production
One-year only runs; often sold out early in the year
The "fine print":

Not responsible for typographical errors or changes in price or features by Märklin.
Prices and specifications subject to change without notice.
Note:

items designated by item numbers beginning with the letter 'T'

26290 - German Federal Army Military Train


Pre-order price: $ 495.00
Goes with: 46952 46953 46954 46955 46956 48710 48711 48712


Prototype: Tank transport train with aa German Federal Army escort. Class 290 heavy swtich diesel locomotive. Type Sammp 705 heavy duty flat car, "Leopard 2" battle tank in the improved original version type A1. Type Bm 234 escort car porvided by the German Federal Railroad (DB).

Model: The locomotive has an mfx digital decoder and C-Sine controlled high-efficiency propulsion. The locomotive has a powerful, compact desigh, maintenance-free can motor with a flywheel, centrally mounted. 4 axles powered through cardan shafts. 2 traction tires. The headlights / marker lights are maintenance-free LED's. The headlights / marker lights will work in conventional operation and can be controlled digitally. The acceleration and braking delay can be controlle dwith a 6021 Control Unit of Marklin Systems. The engineer's cab has interior details shown in relief. The locomotive has separately applied grab irons and metal handrails. The steps to the engineer's cab can be removed for small radius curves. The 4 heavy duty flat cars have metal frames and heavy duty trucks. The escort passenger car comes in a lenght corresponding to a scale of 1:93.5 The turcks are based on Minden Deutz designs and have seaparately applied parts. This car can be retrofitted with current-conducting couplers, interior lighting, and marker lights. Total length over the buffers 1020 mm / 40-3/16". 4 model tanks made of metal. The turrets can be rotated, and the cannons can be moved up and down. Authentic paint scheme and detailed lettering.

One time series -- this year only.

Comment: Locomotive road number 290 999 2 was delivered directly to the German Federal Army in 1974. It was intended to provide switching service for heavy tank trains and be able to bring cars and trains to the DB's route network. This locomotive was used by the DB outside of its "army service", and after the reunification of East and West Germany the civilian use outweighed the military use. The locomotive was initially leased to the DB and was sold to the DB on January 1, 1996 after long negotiations. Currently it is designated as road number 294 408-0. The "Leopard 2" is the powerful German battle tank, which is used as a standard tank by the German Federal Army with currently 2,125 units. Other countries have also bought this modern tank or have built it under license. The "Leo 2" has been built since 1979 and has been constantly developed further or retrofitted with additional equipment from the original A0 version do the current A6. The subassembly design concept allows this tank to be adapted constantly to the current level of technology. A "Leopard 2" weighs between 55 metric tons (A0) and 60 metric tons (A6) and requires special heavy duty flat cars for transport by rail which the DB and the German Federal Army itself hold in readiness. The "Leo 2" reaches a speed of 70 km/h (44 mph) on roads under its own power and requires around 300 liters (80 gallons) of diesel fuel every 100 km (63 miles) and in the country side almost double that at 40 km/h (25 mph). At any rate, about 1,500 horsepower is produced form a motor displacement of 47.6 liters (2,906 cubic inches). These data are on the order of a modern, compact diesel locomotive.


---
18500 - HO German Federal Army Wolf All-Terrain Vehicle
Pre-order price: $ 11.95
Goes with: 18505 18510 18515 18520 18525 18530 18535 18540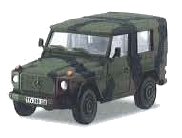 ---
18505 - HO German Federal Army Dingo 1 General Purpose Transport Vehicle
Pre-order price: $ 16.95
Goes with: 18500 18510 18515 18520 18525 18530 18535 18540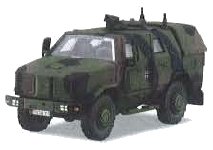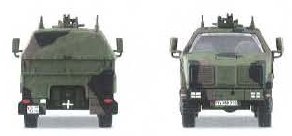 ---
18510 - HO German Federal Army Fennek Reconnaissance Vehicle
Pre-order price: $ 16.95
Goes with: 18500 18505 18515 18520 18525 18530 18535 18540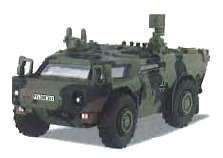 ---
18515 - HO German Federal Army Leopard 2 A6 Tank
Pre-order price: $ 18.95
Goes with: 18500 18505 18510 18520 18525 18530 18535 18540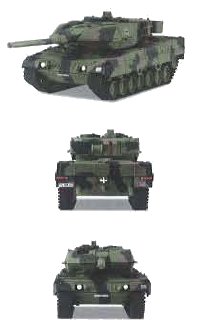 ---
18520 - HO German Federal Army Gepard Tank
Pre-order price: $ 18.95
Goes with: 18500 18505 18510 18515 18525 18530 18535 18540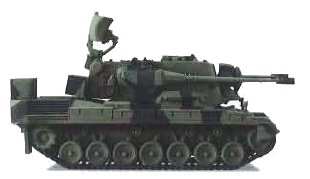 ---
18525 - HO German Federal Army Fuchs Armored Transport Vehicle
Pre-order price: $ 18.95
Goes with: 18500 18505 18510 18515 18520 18530 18535 18540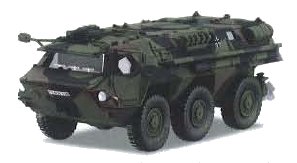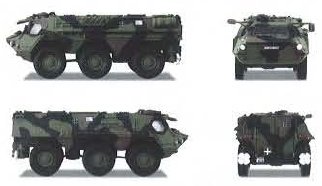 ---
18530 - HO German Federal Army 5TGL Mil Truck
Pre-order price: $ 18.95
Goes with: 18500 18505 18510 18515 18520 18525 18535 18540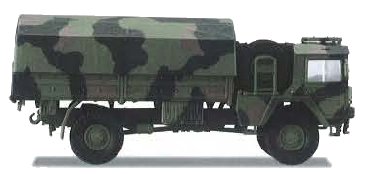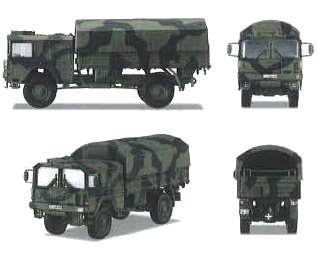 ---
18535 - HO German Federal Army 7TGL Mil Truck
Pre-order price: $ 18.95
Goes with: 18500 18505 18510 18515 18520 18525 18530 18540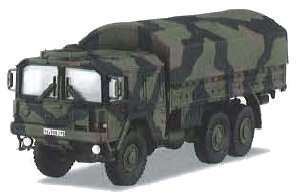 ---
18540 - HO German Federal Army 10T GL Mil Truck
Pre-order price: $ 18.95
Goes with: 18500 18505 18510 18515 18520 18525 18530 18535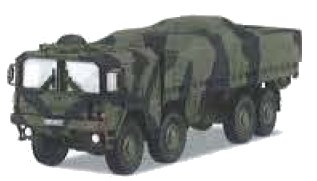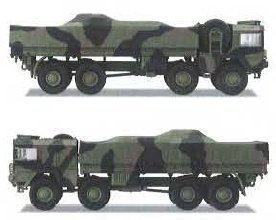 ---
42563 - HO German Federal Army "Silver Coins" Hospital 4-Car Set (L)
Pre-order price: $ 195.00
Goes with: 26290 46952 46953 46954 46955 46956 48710 48711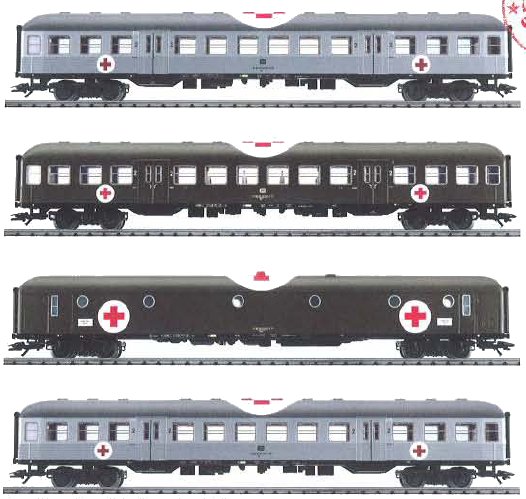 ---
46952 - HO German Federal Army Kbs 443 Stake Car & Dingo 1 Vehicle
Pre-order price: $ 45.00
Goes with: 26290 46953 46954 46955 46956 48710 48711 48712


---
46953 - HO German Federal Army Kbs 443 Stake Car & 2 Fennek Reconnaissance Ve
Pre-order price: $ 53.00
Goes with: 26290 46952 46954 46955 46956 48710 48711 48712


---
46954 - HO German Federal Army Kbs 443 Stake Car & 2 Wolf Vehicles
Pre-order price: $ 53.00
Goes with: 26290 46952 46953 46955 46956 48710 48711 48712


---
46955 - HO German Federal Army Kbs 443 Stake Car & 5T GL Mil Truck
Pre-order price: $ 45.00
Goes with: 26290 46952 46953 46954 46956 48710 48711 48712


---
46956 - HO German Federal Army Kbs 443 Stake Car & 7T GL Mil Truck
Pre-order price: $ 45.00
Goes with: 26290 46952 46953 46954 46955 48710 48711 48712


---
48710 - HO German Federal Army Rimmps 651Heavy Duty Flat Car & Fuchs Armored
Pre-order price: $ 53.00
Goes with: 26290 46952 46953 46954 46955 46956 48711 48712


---
48711 - HO German Federal Army type Rimmps Heavy Duty Flat Car & Leopard 2 A6
Pre-order price: $ 53.00
Goes with: 26290 46952 46953 46954 46955 46956 48710 48712


---
48712 - HO German Federal Army Rimmps 650 Heavy Duty Flat Car & Gepard Truck
Pre-order price: $ 53.00
Goes with: 26290 46952 46953 46954 46955 46956 48710 48711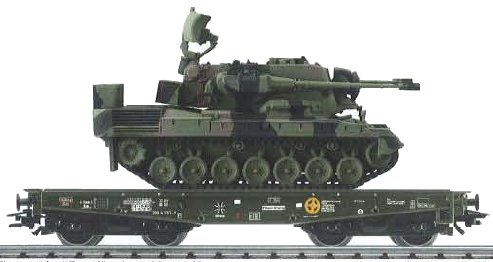 ---
48713 - HO German Federal Army Rimmps 650 Heavy Duty Flat Car & 10T GL Mil Tr
Pre-order price: $ 53.00
Goes with: 26290 46952 46953 46954 46955 46956 48710 48711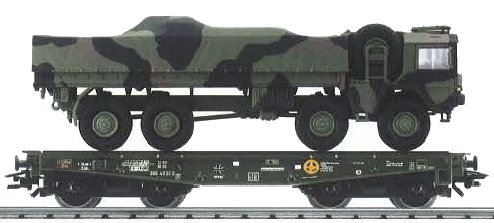 ---