Here are the Fall and 4th Quarter 2004 MHI Items from Marklin

Authorized Marklin Digital Dealer
Best Prices AND Service on the Web !!!


If you see something you like, email me: RJFtrains@aol.com
These items will be available shortly, and only for a very limited time -- order now!
Price Alert
Due to fluctuations in currency exchange rates, prices are subject to change
without notice. If you have any questions as to my pricing policies, please
do not hesitate to ask. I offer the best possible combination of value and
service. Your complete satisfaction is what matters most!.
MHI Items are designated in this color
Item #

Description

Era

Del.
Price
HO
37022
Digital DRG Class 53 "K" Borsig Steam Locomotive w/Tender and mfx decoder
III
SOLD
OUT
$ 495
37991
Digital "Big Boy" Class 4000, road number 4012 Steam Locomotive w/Tender and mfx decoder

III
$ 795
42750
DB Express Train Passenger 4-car set
III
$ 129
46118
DB Henschel Snow Plow "Klima"
IV
TBA
48261
DB "Henkel" Silo Car
III
TBA
48404
2004 Marklin Christmas Car
II
$ 34
48672
DB Double Flat cars type SSym loaded with metal molds
III
TBA
HO Special Imprint (LIC) cars
HO Accessories
17871-17874
Marklin "Caterpillar" HO Construction Vehicles (4 different)
V
$ 19 ea.
60921,3,4
mfx Decoder kits
$ 119
60922
mfx Decoder
$ 85
72090
Distribution strip for new plug connectors
$ 3
72881
Marklin Roundhouse kit for turntable
$ 89
Z
80614
2004 Marklin Christmas car
$ 29
81552
2004 Special "Z" Christmas Starter set w/Battery Controller
$ 95
82551
Wismar (DRG) Refrigerated Banana car w/Brakeman's cab. Comes with Culemeyer Kaelble roller bed and towing vehicle
II
TBA

Please order early; supply is extremely limited on these items.
---
HO


37991 Union Pacific "Big Boy" Steam Locomotive
with Tender and "mfx" decoder



Prototype: US Class 4000 heavy goods locomotive "Big Boy" of the union Pacific Railroad (UP). Reproduction of the locomotive road number. "4012" circa 1960. The 4000 is considered to be the largest steam locomotive in the world.
Model: With digital decoder, regulated high-power engine, noise generator and further auxiliary functions. High performance motor with bell-shaped armature in the boiler. 8 powered axles, 4 traction tires. Articulated chassis fitted with springs. Headlamps, tender and number boards with maintenance-free LED can be digitally controlled. 2 smoke-units (Seuthe #11 -- Marklin #7226) can be added, contacts already installed for instant use. Headlights, number board and flight compartment lighting are on in conventional operation and can be digitally controlled. Speed-dependent steam locomotive noise, bell, whistle, braking noise as well as acceleration and braking delay can be controlled with control unit 6021 or with mobile station 60652. With the central station 60212, additional sounds can be controlled such as: air pump, which valves and the injector, auxiliary blower, rail joints, compressed air brakes, the cab radio and even the noise of the original claw clutch when coupling are called up. Locomotive contains an efficient loudspeaker in the tender with adjustable volume. Front-end coupler can be inserted as desired. Close-couplers between locomotive and tender. Adjustable steam pipes. Metal hand rails. Many set details. Figures (engineer, coal man) are attached in the driving compartment. Length over buffers 46.5 cm.
The locomotive 37991 in the above described execution is manufactured as a one-time series only for Insider members.
The 25 machines of the 4000 class are considered to be the largest ever steam engines of the world built as a series. But the also officially used surname "Big Boy" sounds rather modest. These approximately 40 m (131 ft.) long giants brought an achievement of over 6.200 HP with four enormous cylinders. Particularly imposing the extremely loud noise this locomotive generated. With new sound electronics, this H0 model faithfully reproduces the typical sound of the large steam locomotives as well as a selection of background noises which can be controlled individually. The full range of acoustic functions is available via use of the central station from the Marklin Systems program.
Operational notes: While this locomotive can be run on curved tracks with a radius as small as 360 mm (5100, R1, etc.), Marklin recommends the use of larger radii curves. Due to the overhang of the long boiler, signals, catenary masts, bridge piers, tunnel portals, etc. must be situated a sufficient distance from the track. Due to the weight of the locomotive, it is recommended that all tracks be fastened securely. The locomotive should only be used on turntables and transfer tables for the purposes of passing "over" or "through" these accessories.
Original
Central Unit
Central
Control
Mobile
Station
Central
Station
6020
6021
60652
60212
Locomotive headlights
x
x
x
x
Number board lighting
(x)
x
x
x
Steam "chuff" sound
x
x
x
Whistle (long)
x
x
x
Cornering Sound
x
x
x
Engineer's cabin light
(x)
x
x
x
Warning bell
x
x
x
Whistle (short)
x
x
x
Brake squealing
x
x
x
Air pump
x
Steam injectors
x
Auxiliary blower
x
Coupling sound
x
Rail joiner "clicks"
x
Air brake release
x
Cabin chatter
x
(x) = always "on" in
conventional mode

42750 DB Express Train Passenger 4-car Set



46118 DB Henschel Snow Plow "Klima"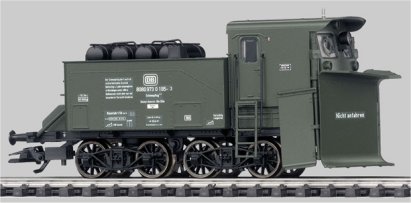 Prototype: Henschel Snow Plow "Klima" design for the German Railway (DB).

Model: Flight compartments with free look through. Hinged lateral "mine-sweeping" blades. Ladder made of metal. Separately applied air cylinders and lines. Functional work slip thrower, can be disconnects with slide switch. Length 11.7 cm
The designation of the versatile snow plow refers not to the weather conditions, but to its Austrian inventor Rudolf Klima. During the 1930's these devices were built under license in Germany by Henschel. The design advantages include the simple structure on the tenders, adjustable (snow) clearing tools and the use of steam or compressed air.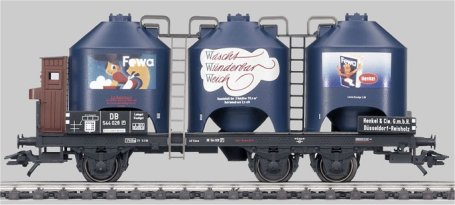 Prototype: Powdered-goods Silo car, modified for German Federal Railroads (DB). Private car for the company Henkel KGaA.

Model: Detailed chassis with asymmetrical center axle. Ladders and platforms made of metal. Length over buffers 13.0 cm
Private cars are often used in the expanded factories of the chemical industry to save the cost of renting for long periods of time and facilitates careful unloading in different places of the factory as well as providing internal transportation. The label on the car does not have to indicate the contents being conveyed; rather, it usually shows images of current products as advertisements for the car's owner.

48404 Marklin 2004 Christmas Car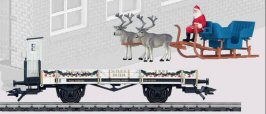 48672 DB Double Flat cars type SSym loaded with metal molds

Prototype: 2 Flat cars type SSym of the German Railway (DB). Loaded with metal molds.

Model: Different road numbers on each car. 6 molds made of metal, affixed to wood racks. Attached removable side posts. Length over buffers 30.5 cm

HO Accessories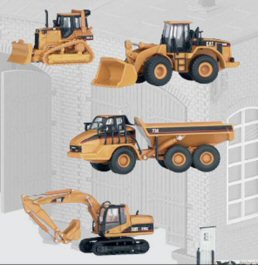 Model: 4 different HO scale "Caterpillar" construction vehicles.
| | | |
| --- | --- | --- |
| 60921 | For analog and DELTA locomotives with round commutators | |
| 60922 | For locomotives already equipped with high-efficiency motors | |
| 60923 | For analog and DELTA locomotives with small, flat commutators | |
| 60924 | For analog and DELTA locomotives with large, flat commutators | |

72090 Electrical Distribution Strip
(for new style connectors 71400)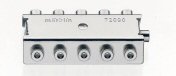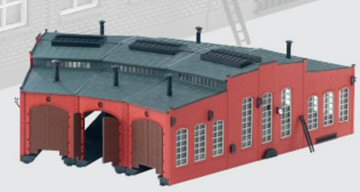 Model: Locomotive Shed Kit - 3 Stalls with Interior Details and Lighting. This kit is a completely re-tooled version of Marklin's older 7288 roundhouse locomotive shed kit. Model has this been redesigned to better accommodate "C" and "K" track; comes with interior lighting. Includes extra pieces (support beams and roof trusses – formerly only available in a separate kit) to enable you to create a completely seamless look as you join multiple units together to fit around your existing turntable.


80614 Marklin 2004 Christmas Car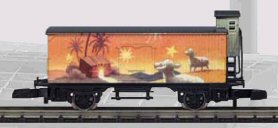 Z

81552 Marklin 2004 Christmas Starter Set
w/Battery controller

Prototype: BR 89 0-3-0 Steam locomotive and refrigerator car.
Model: Includes battery operated power supply and enough track to make a small oval. (Battery not included.)

82551 DRG Refrigerated Banana car
with Culemeyer Kaelble roller bed & towing vehicle

Prototype: Refrigerated vehicle "Wismar" design of the German National Railroad (DRG). Model with brakeman's cab. Originally intended as a banana car. Culemeyer road scooter with Kaelble tractor.
Model: Length over buffers 56 mm. Tractor made of metal with appropriate road scooter trailer. Packed in metal box with the designation "Anhalter Bahnhof".
Banana cars serve not only for the transport of tropical fruits, but also for their normal maturing process. By using proper ventilation and keeping the car's interior at a moderate temperature during its trip to the to the market, the bananas can be shipped while still green while their delicate insides ripen to their gold-yellow color. In order to avoid an interruption of this process, in former times, the whole car was often carried by the destination railroad line to its final destination on the road.
Specifications subject to change without notice.
Not responsible for typographical errors.
Additional LIC (Special Imprint) Cars:
Very limited availability
94135 - Leikeim Beer $19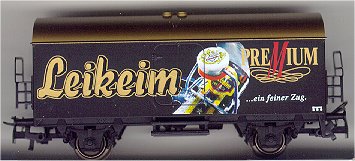 94151 - Alpirsbacher Klosterbräu Beer $19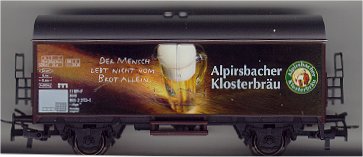 94202 - Henkel 2-car set $43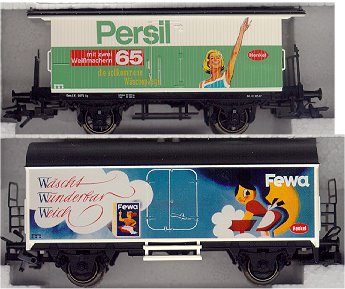 94203 - UNICEF car #1 $25



94204 - UNICEF car #2 $25

94208 - Hamburg Miniature Wunderland car $25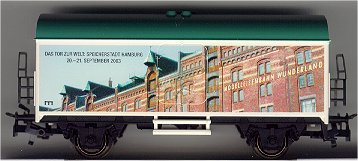 94231 - Deutsche Bierbrauerei Beer Car $35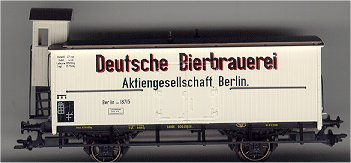 94239 - Herforder Beer Car $19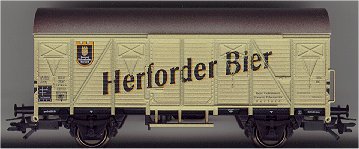 94248 - "Billy Boy car #1 $27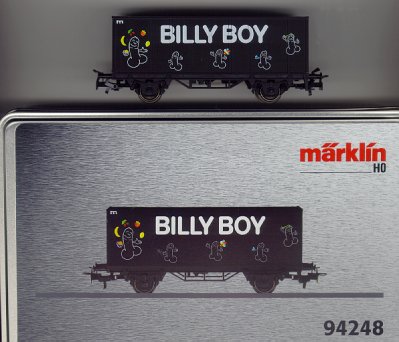 94249 - "Billy Boy car #2 $27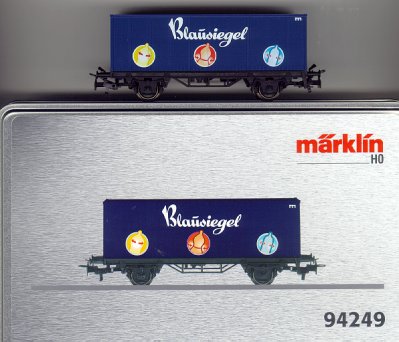 ---
|| Return to the Home Page ||